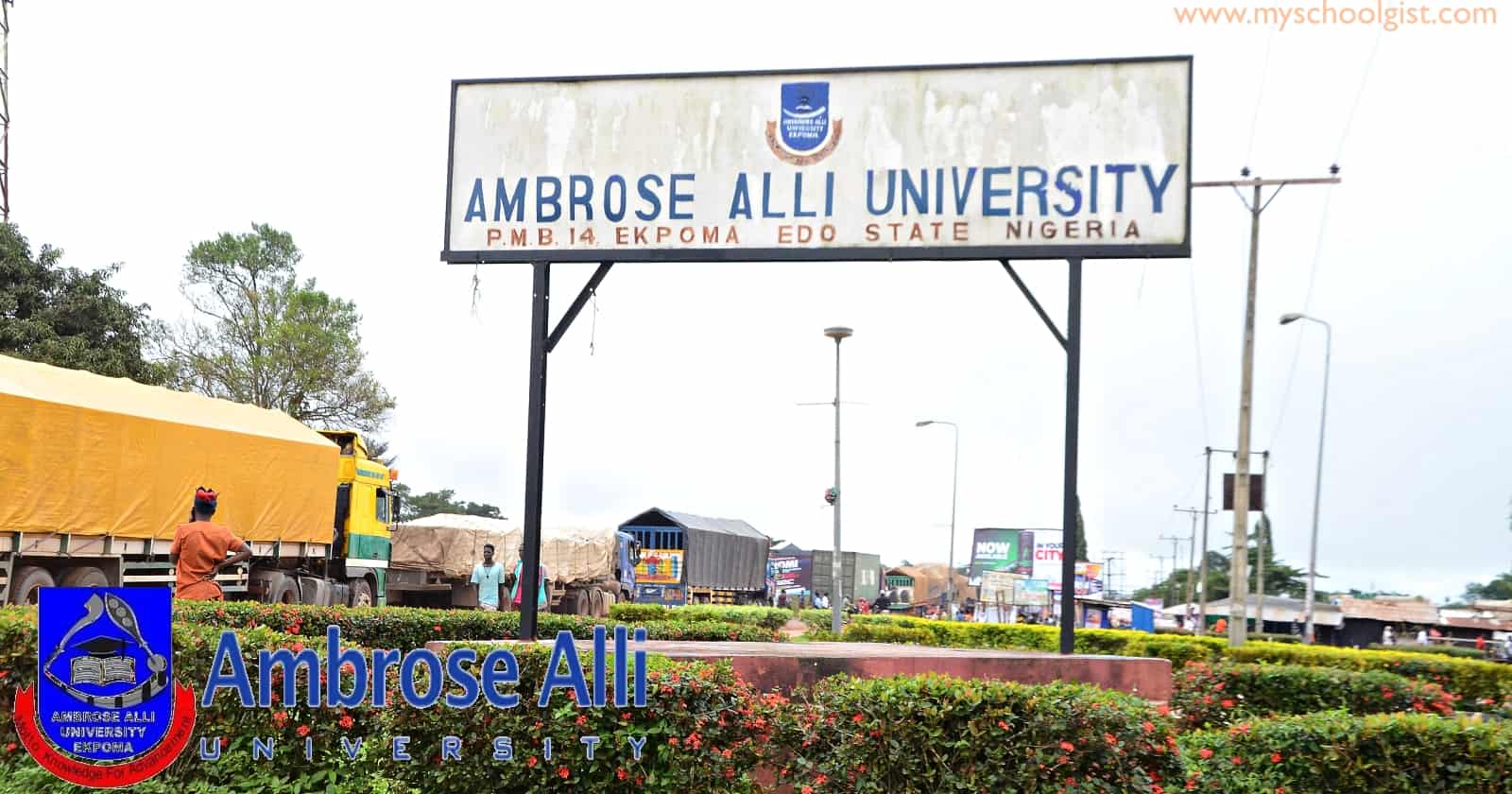 The management of Ambrose Alli University, Ekpoma, has released the school fees schedule for the 2021/2022 academic session.
The schedule includes the fees for various programs offered by the university, including tuition fees, acceptance fees and other charges. The fees are categorized according to the faculties and departments in the university.
If in doubt about any issue or you wish to report any matter, please "TELL-THE-VC" on Twitter – @asomwan or Instagram – @asomwan_adagbonyin.
AAU School Fees Schedule for Fresh Students
Note to Phone users: for better viewing with a phone, swipe left to see all the details in the table below:
DEPARTMENT

School Fees (N)
LMS Plus Fees (N)
TOTAL (N)
ANIMAL SCIENCE
148,000
20,000
168,000
CROP SCIENCE
148,000
20,000
168,000
AGRICUTURAL ECONOMICS & EXTENSION
148,000
20,000
168,000
SOIL SCIENCE
148,000
20,000
168,000
ENGLISH
132,250
20,000
152,250
FRENCH
132,250
20,000
152,250
HISTORY
132,250
20,000
152,250
MASS COMMUNICATION
132,250
20,000
152,250
PHILOSOPHY
132,250
20,000
152,250
RELIGIOUS MANAGEMENT AND CULTURAL STUDIES
132,250
20,000
152,250
THEATRE AND MEDIA ARTS
132,250
20,000
152,250
ANATOMY
165,000
20,000
185,000
NURSING
165,000
20,000
185,000
PHYSIOLOGY
148,000
20,000
168,000
CHEMICAL PATHOLOGY
185,000
20,000
205,000
HAEMATOLOGY/BLOOD TRANSMISSION SCIENCE
185,000
20,000
205,000
HISTOPATHOLOGY
185,000
20,000
205,000
MEDICAL MICROBIOLOGY
185,000
20,000
205,000
MEDICINE AND SURGERY
216,000
20,000
236,000
BUSINESS EDUCATION
148,000
20,000
168,000
CURRICULUM AND INSTRUCTION
148,000
20,000
168,000
EDUCATIONAL FOUNDATION AND MANAGEMENT
148,000
20,000
168,000
GUIDANCE & COUNSELLING
148,000
20,000
168,000
HUMAN KINETICS  AND HEALTH EDUCATION
148,000
20,000
168,000
LIBRARY AND INFORMATION SCIENCE
132,250
20,000
152,250
VOCATIONAL AND TECHNICAL EDUCATION
148,000
20,000
168,000
ARCHITECTURE
158,500
20,000
178,500
BUILDING
158,500
20,000
178,500
FINE AND APPLIED ARTS
132,250
20,000
152,250
GEOGRAPHY AND ENVIRONMENTAL MANAGEMENT
132,250
20,000
152,250
AGRICULTURAL AND BIO-RESOURCES ENGINEERING
158,500
20,000
178,500
CIVIL ENGINEERING
158,500
20,000
178,500
ELECTRICAL ENGINEERING
158,500
20,000
178,500
MECHANICAL ENGINEERING
158,500
20,000
178,500
INDUSTRIAL AND PRODUCTION ENGINEERING
158,500
20,000
178,500
MATERIALS AND METALLURGICAL ENGINEERING
158,500
20,000
178,500
BIOCHEMISTRY
148,000
20,000
168,000
BOTANY
148,000
20,000
168,000
HUMAN NUTRITION AND DIETETICS
148,000
20,000
168,000
MICROBIOLOGY
158,500
20,000
178,500
ZOOLOGY
148,000
20,000
168,000
LAW
185,000
20,000
205,000
ACCOUNTING
165,000
20,000
185,000
BANKING AND FINANCE
146,000
20,000
166,000
BUSINESS ADMINISTRATION
146,000
20,000
166,000
PUBLIC ADMINISTRATION
146,000
20,000
166,000
CHEMISTRY
148,000
20,000
168,000
COMPUTER SCIENCE
158,500
20,000
178,500
MATHEMATICS
148,000
20,000
168,000
PHYSICS
148,000
20,000
168,000
ECONOMICS
146,000
20,000
166,000
POLITICAL SCIENCE
132,250
20,000
152,250
PSYCHOLOGY
132,250
20,000
152,250
SOCIOLOGY
132,250
20,000
152,250

ACCEPTANCE FEES (#)

MEDICINE AND SURGERY
 –
 –
79,300
OTHERS
 –
 –
64,300
AAU School Fees Schedule for Returning Students
| FACULTY/DEPARTMENT | 2016/2017 (600L) | 2017/2018 (500L) | 2018/2019 (400L) | 2019/2020 (300L) | 2020/2021 (200L) |
| --- | --- | --- | --- | --- | --- |
| ANIMAL SCIENCE |   | 114200 | 114200 | 114200 | 118200 |
| CROP SCIENCE |   | 114200 | 114200 | 114200 | 118200 |
| AGRIC ECONOMICS & EXTENSION |   | 114200 | 114200 | 114200 | 118200 |
| SOIL SCIENCE |   | 114200 | 114200 | 114200 | 118200 |
| ARTS |   |   |   |   |   |
| ENGLISH |   | 98450 | 98450 | 98450 | 102450 |
| FRENCH |   | 98450 | 98450 | 98450 | 102450 |
| HISTORY |   | 98450 | 98450 | 98450 | 102450 |
| MAC |   | 98450 | 98450 | 98450 | 102450 |
| PHILOSOPHY |   | 98450 | 98450 | 98450 | 102450 |
| RELIGIOUS & CULTURAL STUDIES |   | 98450 | 98450 | 98450 | 102450 |
| THEATRE & MEDIA ART |   | 98450 | 98450 | 98450 | 102450 |
| BASIC MEDICAL SCIENCES |   |   |   |   |   |
| ANATOMY |   | 131200 | 131200 | 131200 | 135200 |
| MEDICAL LABORATORY SCIENCE |   | 131200 | 131200 | 131200 | 135200 |
| NURSING |   | 131200 | 131200 | 131200 | 135200 |
| PHYSIOLOGY |   | 114200 | 114200 | 114200 | 118200 |
| CLINICAL SCIENCES |   |   |   |   |   |
| MEDICINE AND SURGERY | 162200 | 162200 | 162200 | 162200 | 166200 |
| EDUCATION |   |   |   |   |   |
| BUSINESS EDUCATION |   | 114200 | 114200 | 114200 | 118200 |
| CURRICULUM AND INSTRUCTION |   | 114200 | 114200 | 114200 | 118200 |
| EDUCATIONAL FOUNDATION & MGT |   | 114200 | 114200 | 114200 | 118200 |
| GUIDANCE & COUNSELLING |   | 114200 | 114200 | 114200 | 118200 |
| HUMAN KINETICS  AND HEALTH EDUCATION |   | 114200 | 114200 | 114200 | 118200 |
| LIBRARY AND INFORMATION SCIENCE |   | 114200 | 114200 | 114200 | 102450 |
| VOCATIONAL AND TECHNICAL EDUCATION |   | 114200 | 114200 | 114200 | 118200 |
| ENVIRONMENTAL STUDIES |   |   |   |   |   |
| ARCHITECTURE |   | 124700 | 124700 | 124700 | 128700 |
| BUILDING |   | 124700 | 124700 | 124700 | 128700 |
| FINE AND APPLIED ARTS |   | 98450 | 98450 | 98450 | 102450 |
| GEOGRAPHY AND ENVIRONMENTAL MANAGEMENT |   | 98450 | 98450 | 98450 | 102450 |
| ENGINEERING |   |   |   |   |   |
| AGRICULTURAL AND BIO-RESOURCES ENGINEERING |   | 124700 | 124700 | 124700 | 128700 |
| CIVIL ENGINEERING |   | 124700 | 124700 | 124700 | 128700 |
| ELECTRICAL ENGINEERING |   | 124700 | 124700 | 124700 | 128700 |
| INDUSTRIAL AND PRODUCTION ENGINEERING |   | 124700 | 124700 | 124700 | 128700 |
| MECHANICAL ENGINEERING |   | 124700 | 124700 | 124700 | 128700 |
| MATERIALS AND METALLURGICAL ENGINEERING |   | 124700 | 124700 | 124700 | 128700 |
| LIFE SCIENCES |   |   |   |   |   |
| BIOCHEMISTRY |   | 114200 | 114200 | 114200 | 118200 |
| BOTANY |   | 114200 | 114200 | 114200 | 118200 |
| HUMAN NUTRITION AND DIETETICS |   | 114200 | 114200 | 114200 | 118200 |
| MICROBIOLOGY |   | 124700 | 124700 | 124700 | 128700 |
| PSB |   | 114200 | 114200 | 114200 | 118200 |
| ZOOLOGY |   | 114200 | 114200 | 114200 | 118200 |
| LAW |   |   |   |   |   |
| LAW |   | 131200 | 131200 | 131200 | 135200 |
| MANAGEMENT SCIENCE |   |   |   |   |   |
| ACCOUNTING |   | 131200 | 131200 | 131200 | 135200 |
| BANKING AND FINANCE |   | 112200 | 112200 | 112200 | 116200 |
| BUSINESS ADMINISTRATION |   | 112200 | 112200 | 112200 | 116200 |
| PUBLIC ADMINISTRATION |   | 112200 | 112200 | 112200 | 116200 |
| PHYSICAL SCIENCES |   |   |   |   |   |
| CHEMISTRY |   | 114200 | 114200 | 114200 | 118200 |
| COMPUTER SCIENCE |   | 124700 | 124700 | 124700 | 128700 |
| MATHEMATICS |   | 114200 | 114200 | 114200 | 118200 |
| PHYSICS |   | 114200 | 114200 | 114200 | 118200 |
| SOCIAL SCIENCE |   |   |   |   |   |
| ECONOMICS |   | 112200 | 112200 | 112200 | 116200 |
| POLITICAL SCIENCE |   | 98450 | 98450 | 98450 | 102450 |
| PSYCHOLOGY |   | 98450 | 98450 | 98450 | 102450 |
| SOCIOLOGY |   | 98450 | 98450 | 98450 | 102450 |
TAGGED: www.aauekpoma.edu.ng | Ambrose Alli University : AAU
This article originally appeared in www.myschoolgist.com